---
President Paul von Hindenburg
"Luxemburg" Overprint
Date of Issue: October 1, 1940

These stamps were valid for postage until January 1, 1942, after which time only regular stamps of Germany could be used to frank mail from the "district" of Luxembourg.
[FDC]
---
Charlotte Definitives and Views
"Rpf" Overprint
Date of Issue: December 5, 1940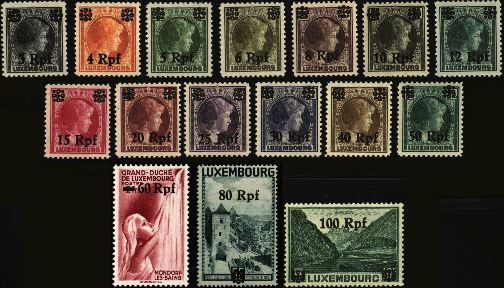 These pre-war Luxembourg stamps, overprinted to indicate values in German currency, were valid for postage for less than four months -- until April 1, 1941.
---
Winter Welfare
"Luxemburg" Overprint
Date of Issue: January 12, 1941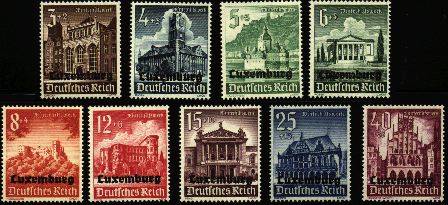 The "Luxemburg" overprints were applied to the German semi-postal Winter Welfare stamps of November 5, 1940. The Luxemburg overprints were valid for postage until July 1, 1941.
[FDC]
Last updated on 27-Jul-99 at 21:42.