---
Birthdays
Charlotte (80th) and Henri (21st)
Date of Issue: March 8, 1976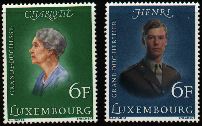 These stamps commemorate the 80th birthday of Grand Duchess Charlotte (born 1896), who abdicated in 1964, and the 21st birthday of her grandson, the heir apparent Crown Prince Henri (born 1955).
---
Merovingian Artifacts
Date of Issue: March 8, 1976

These stamps show four ancient artifacts from the Merovingian period (5th-7th century):
golden disco-shaped brooch (found at Grevemacher)
footless beaker (found at Remerschen)
pot with rouletted decoration (found at Kehlen)
Merovingian gold coin (found at Basbellain)
---
Europa 1976
Craftwork
Date of Issue: May 3, 1976

These stamps show two works of pottery in support of the Europa theme of "craftwork" -- a soup tureen with lid and a deep bowl.
---
United States of America
Bicentennial
Date of Issue: May 3, 1976

This stamp pays a grateful tribute to the bicentennial of the United States of America. The U.S.A. will also be remembered by Luxembourgers for the important role it played in the liberation of 1944.
---
Montreal Olympic Games
Date of Issue: May 3, 1976

This stamp publicizes the 1976 Olympic Games held in Montreal, Canada.
---
Young Music Friends
30th Anniversary
Date of Issue: May 3, 1976

The "Jeunesses Musicales" organization was founded in Belgium in 1940 and a chapter opened in Luxembourg in 1946. Its goal is to foster interest in music and the arts, particularly to school children. It has organized many concerts in Luxembourg and has set up music courses for the benefit of youthful musicians.
---
Renaissance Art
Date of Issue: September 9, 1976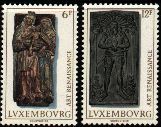 ---
Alexander Graham Bell
Centenary of First Telephone Call
Date of Issue: September 9, 1976

Alexander Graham Bell worked out the principle of the telephone in 1874, and in 1876, at the Philadelphia exhibition, he demonstrated a device using the transmission of sound by electricity, and this device earned him the honor of being the inventor of the first usable telephone. The first telephone service in Luxembourg was introduced by an Act of February 20, 1884.
---
Protected Plants II (Charity Issue)
Date of Issue: December 6, 1976

These stamps depict plants that are protected by Luxembourg law in order that they may better survive as the country continues to industrialize:
Gentiana ciliata L. (Fringed Gentian)
Narcissus pseudonarcissus (Wild Daffodil)
Cephalanthera rubra (Red Helleborine Orchid)
Ophrys fuciflora (Late Spider Orchid)
Scilla bifolia L. (Two Leaved Squill)
Last updated on 27-Jul-99 at 21:42.