---
Jean and Joséphine-Charlotte
Silver Wedding Anniversary
Date of Issue: April 3, 1978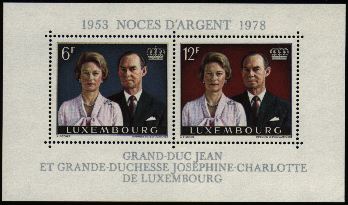 This souvenir sheet commemorates the silver wedding anniversary of Their Royal Highnesses Grand Duke Jean and Grand Duchess Joséphine-Charlotte. They were married on April 9, 1953 in the Cathedral of Luxembourg.
---
Juphilux 78 Stamp Exposition
Date of Issue: April 3, 1978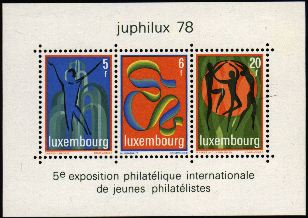 Juphilux 78, the fifth international philatelic exhibition of young philatelists, was held on April 6-10, 1978 in the Festival Hall of the Athenée in Luxembourg. This souvenir sheet was sold with an entrance ticket to the exhibition.
---
Europa 1978
Sculpture
Date of Issue: May 18, 1978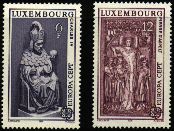 ---
Émile Mayrisch (1862-1928)
50th Anniversary of Death
Date of Issue: May 18, 1978

Émile Mayrisch was born in Eich on November 10, 1862. He studied engineering and, after working at the steel mills in Rodange and Dudelange, he was appointed manager of the latter in 1897. Mayrisch was one of the driving forces behind the creation of ARBED in 1911 and became its first technical manager. His reputation was international. In 1922, he was elected to the Belgian-Luxembourg Economic Council. In 1926, he set up the first International Steel Agreement whose members were the national iron producers of France, Germany, Belgium, Saar, and Luxembourg. In 1927, Austria, Hungary, and Czechoslovakia joined this organization chaired by Mayrisch. Mayrisch died in a car accident in 1928.
---
Notre-Dame of Luxembourg
Tricentenary
Date of Issue: May 18, 1978

---
Grand Ducal Military Band
135th Anniversary
Date of Issue: May 18, 1978

---
Masonic Grand Lodge of Luxembourg
175th Anniversary
Date of Issue: September 11, 1978

The first freemasons' lodge in Luxembourg was founded in 1803. The goal of the freemasons is to help people attain intellectual and moral perfection by study and meditation.
---
Philanthropic Organizations
Date of Issue: September 11, 1978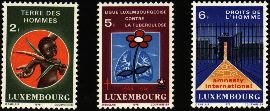 These stamps publicize three philanthropic organizations:
Terre des Hommes -- for the betterment of underprivileged children.
Luxembourg Anti-Tuberculosis League -- dedicated to the eradication of TB.
Amnesty International -- the relentless defender of Human Rights and political prisoners; it won the Nobel Peace Prize in 1977.
---
Evangelists
Date of Issue: December 5, 1978

These stamps depict behind-glass paintings from a collection kept at the History and Art Museum in Luxembourg. The subject matter is four gospel writers and a classic nativity scene:
St. Matthew
St. Mark
Nativity
St. Luke
St. John
Last updated on 27-Jul-99 at 21:42.