---
14th Century Coins
Date of Issue: March 5, 1980

These stamps show four coins struck in the reigns of Henry VII, John the Blind, Wenceslas I, and Wenceslas II in the 14th century:
Silver coin showing St. Gervase and St. Protais, two brothers martyred in Milan during the reign or Nero. (Henry VII, 1308-1313).
Silver coin showing a portrait of John the Blind. (John the Blind, 1310-1346).
Gold coin showing the Easter Lamb. (Wenceslas I, 1352-1383).
---
Historic Buildings
Ettelbrück City Hall and State Archives
Date of Issue: March 5, 1980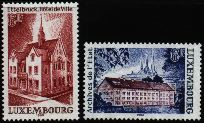 Ettelbrück City Hall was designed by Luxembourg architect Sosthène Weis and was built in 1906. Ettelbrück is located near the geographic center of Luxembourg and is a busy commercial center.
The State Archives building is a former military hospital (built in 1857) that later accommodated the few military forces granted to Luxembourg by the Treaty of London in 1867. The building was going to be demolished in the 1960s, but it was finally decided to move the State Archives there in 1968.
---
Europa 1980
Famous People
Date of Issue: April 28, 1980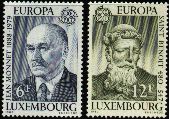 These stamps were issued in support of the Europa theme of "famous people" . They depict Jean Monnet (1888-1979), a leader in the post-war united Europe movement, and St. Benedict (480-547), founder of the Benedictine order of monks of which the famous abbey of Echternach was the first on Luxembourg soil (698).
---
Sports for All
Date of Issue: April 28, 1980

This stamp promotes participation in various sports as a way to improve one's health.
---
Prevention of Accidents & Occupational Diseases
9th World Congress
Date of Issue: April 28, 1980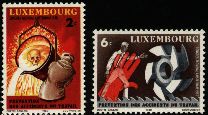 The goal of this Congress, organized by the Benelux countries, was to set up plans to ensure workers' safety in the workplace.
---
Art Nouveau
Date of Issue: September 10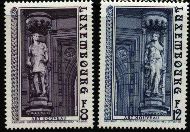 These stamp feature two statues in art nouveau style created by Luxembourg sculptor Jean Mich. The subjects are Mercury, the Roman god of commerce, and Ceres, the Roman goddess of agriculture. The statues are found at the entrance door to the headquarters of the State Savings Bank in Luxembourg City, built from 1910-1913.
---
Introduction of Postal Code
Date of Issue: September 10

The postal code is a numeric designation of a part of a postal address. It facilitates the handling of mail by allowing quick sorting of the mail at postal distribution centers. Luxembourg uses 4-digit postal codes, sufficient to identify places or villages with less than 50 households; street or parts of streets in other places; and a group of post office boxes.
---
State Control of Police
50th Anniversary
Date of Issue: September 10

By an act of 1930, the Luxembourg state took control over the local police forces. This was done to increase efficiency and consistency with the goal of reducing the number of public order incidents of the type that were common in Luxembourg in the late 1920s.
---
Paintings Under Glass II (Caritas Issue)
Date of Issue: December 5

These stamps depict behind-glass paintings from a collection kept at the History and Art Museum in Luxembourg. The subject matter are three popular saints and a Virgin and Child:
St. Martin
St. Nicholas
Virgin Mary and Child
St. George
Last updated on 27-Jul-99 at 21:43.