---
Grand Duke Jean
60th Birthday
Date of Issue: January 5, 1981
Grand Duke Jean was born on January 5, 1921 at Berg Castle. He has been Grand Duke of Luxembourg since November 12, 1964 when his mother, Grand Duchess Charlotte, abdicated in his favor.
---
Silver Coins
Date of Issue: March 5, 1981

These stamps depict four coins struck under varous sovereigns in the modern period:
Cross of Burgundy, 1635 (Philip IV, 1621-1665)
portrait of Maria Theresa, 1775 (1740-1780)
portrait of Joseph II, 1789 (1780-1790)
Siege crown of 72 sols, 1795 (Francis II, 1792-1795)
---
European Hemicycle
Date of Issue: March 5, 1981

This building houses the enlarged European Parliament during its meetings in Luxembourg. It has 770 seats as well as translation rooms, 130 offices, a printing works, a television studio, two radio stations, and closed-circuit television network.
---
National Library
Date of Issue: March 5, 1981

The National Library building was originally the Jesuit College and was built in the early 17th century. In 1816 it became home to the Athénée educational institution, but the National Library moved in in 1970 after the Athénée moved to a modern building in 1964.
---
Europa 1981
Folklore
Date of Issue: May 4, 1981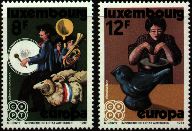 The theme of "folklore" is supported by these two stamps representing the Hämmelsmarsch (sheep's procession), a parade that open's the annual Schueberfouer fair, and the Éimaischen, a popular fair held on Easter Monday unique for the bird whistles (Peckvillercher) which are sold.
---
Luxembourg Chess Federation
50th Anniversary
Date of Issue: May 4, 1981

The first chess club was founded in Luxembourg in 1915 and the Luxembourg Chess Federation was later formed in 1931. Today the Federation has about 650 members from 25 clubs throughout the country.
---
State Savings Bank
125th Anniversary
Date of Issue: May 4, 1981

The Luxembourg State Savings Bank was formed on February 21, 1856 with a mandate to encourage saving by working people, thus helping them to escape poverty and dependency on privileged classes.
---
International Bank in Luxembourg
125th Anniversary of Issuing Rights
Date of Issue: May 4, 1981

The first Luxembourg banknote was issued on September 1, 1856 by the International Bank in Luxembourg. This was authorized by Grand Ducal order of March 8, 1856. It was not until 1914 that the first paper money issued by the government itself appeared.
---
Wedding of Prince Henri and Maria Teresa Mestre
Date of Issue: June 22, 1981

Crown Prince Henri, heir to the throne, married Maria Teresa Mestre on February 14, 1981. Henri is the eldest son of Grand Duke Jean and Grand Duchess Joséphine-Charlotte and was born on April 16, 1955. Maria Teresa was born in Cuba on March 22, 1956 but grew up in Switzerland after her parents left Cuba during the revolution.
---
Aviation
Date of Issue: September 28, 1981

These stamps publicize commercial and recreational aviation in the Grand Duchy. They depict gliders above Useldange (the national gliding center), various pleasure planes, and a Luxair commercial airplane taking off from Findel airport.
---
Energy Conservation
Date of Issue: September 28, 1981

This stamp promotes energy conservation as a means of ensuring continuing fuel availability at reasonable prices.
---
Town Arms I (Caritas Issue)
Date of Issue: December 5, 1981

These stamps feature the coats of arms of four local authorities as well as a Nativity scene:
Pétange
Larochette
Nativity
Stadtbredimus
Weiswampach
Last updated on 27-Jul-99 at 21:43.