---
Congress of Vienna
175th Anniversary
Date of Issue: March 5, 1990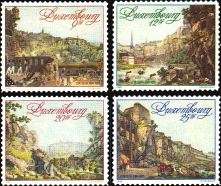 By the Congress of Vienna (1815), Luxembourg became a Grand Duchy and was given to William of Orange-Nassau, King of The Netherlands, personally in exchange for his hereditary rights in German Nassau. The Congress of Vienna also made Luxembourg a member of the German Confederation and guaranteed Luxembourg's independence; despite this "independence," however, the Grand Duchy was occupied by the Prussian army until 1867 and the western part of the Grand Duchy was assigned by The Netherlands to Belgium in 1839.
The views of the fortress of Luxembourg on these stamps were painted by Christoph Wilhelm Selig (1791-1837), an artillery lieutenant of the Hessian garrison which guarded Luxembourg from the time of departure of the French occupier on May 3, 1814 until November 20, 1815.
---
Schueberfouer
60th Anniversary
Date of Issue: March 5, 1990

Schueberfouer is a large carnival and market on Glacis Square in Luxembourg City. It was founded in 1340 by Jean l'Aveugle, Count of Luxembourg and King of Bohemia, and is a continuation of the original traditional folklore fair. It opens for two weeks each year, starting on the next-to-last Sunday of August.
---
Batty Weber (1860-1940)
50th Anniversary of Death
Date of Issue: March 5, 1990

Weber was a Luxembourg writer who was famous for his newspaper columns, short stories, and plays. His style is characterized by his sense of humor and skillful use of irony.
---
International Telecommunication Union
125th Anniversary
Date of Issue: March 5, 1990

The International Telecommunications Union, founded in 1865 as the International Telegraph Union, establishes regulations on the international use of radio, satellite, telegraph, and telephone communication services. It is now an agency of the United Nations with headquarters in Geneva, Switzerland, and has more than 160 nation members.
---
Europa 1990
Post Office Buildings
Date of Issue: May 28, 1990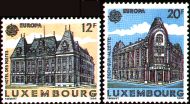 These stamps show the main post office in Luxembourg built early in the 20th century (12F) and the Esch-sur-Alzette post office built in 1930 (20F).
---
Statesmen
Paul Eyschen and Emmanuel Servais
Date of Issue: May 28, 1990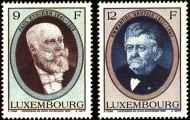 Paul Eschen (1841-1915) was born in Diekirch and was trained as a lawyer. He entered politics in 1866 and from 1888 until his death in 1916 he held the office of Prime Minister and Minister of State.
Emmanuel Servais (1811-1890) was born in Mersch. He was a member of the committee that worked out Luxembourg's constitution of 1842 and later, in 1848, he represented Luxembourg in the Frankfurt Parliament (Luxembourg was a member of the Germanic Confederation from 1815 to 1866). Servais held many other offices during his distinguished public service career -- Minister of Finance, Chairman of the State Council, Prime Minister, President of the Chamber of Deputies, and mayor of Luxembourg City.
---
Luxembourg Naturalists Society
Centenary
Date of Issue: May 28, 1990

The Luxembourg Naturalists Society was founded in 1890 to promote the natural sciences in Luxembourg. This stamp shows an insect of the heteropteran group which Mr. Léopold Reichling, a former president of the society, discovered in Luxembourg and described as a new species in 1984 under the name of Psallus pseudoplatani.
---
Fountains
Date of Issue: September 24, 1990
Hämmelsmarsch (12F). This fountain by Will Lofy shows a scene from the Sheep's March parade that opens the Schueberfouer fun fair each year. It is located in Luxembourg City.
Doves (25F). This fountain, located on the Holy Spirit plateau in Luxembourg City, was inaugurated in 1988. It shows doves in flight, the classic symbol of peace.
"Maus Ketty" (50F). This fountain is located in front of the spa buildings at Mondorf-les-Bains. It is the work of Will Lofy and shows a scene from a work by Luxembourg poet August Liesch (1874-1949).
---
Tourism
Mondercange and Schifflange
Date of Issue: September 24, 1990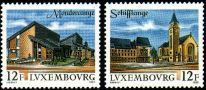 Mondercange. This stamp shows the new administrative and cultural center built in 1985.
Schifflange. This stamp shows the church at Schifflange, an industrial town near Esch-sur-Alzette.
---
Nassau-Weilburg Dynasty
Centenary
Date of Issue: November 26, 1990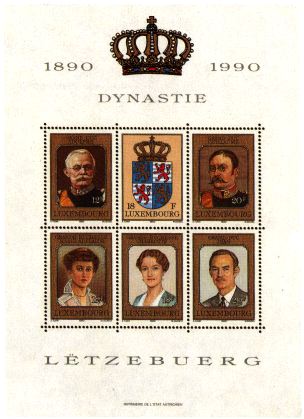 From 1815 to 1890, the Kings of The Netherlands, of the House of Orange-Nassau, were also Grand Dukes of Luxembourg. According to a pact within the Orange family, the Grand Duchy did not pass with the death of William III (in 1890) to his daughter Wilhelmina, as the kingdom of The Netherlands did, but rather to a male kinsman, Adolphe of the Walramian branch of the house of Nassau-Weilburg. Thus began the present Luxembourg National Dynasty. There have been five Grand Dukes or Grand Duchesses to date in the Nassau-Weilburg Dynasty, all pictured on these stamps:
Adolphe (1890-1905)
Guillaume IV (1905-1912)
Marie-Adélaïde (1912-1919)
Charlotte (1919-1964)
Jean (from 1964)
---
Chapels II (Charity Issue)
Date of Issue: November 26, 1990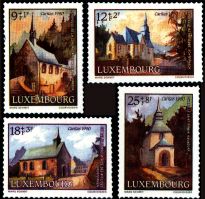 These stamps depict watercolor paintings of four restored chapels in Luxembourg:
Chapel of the Congregation of the Blessed Virgin Mary (Vianden)
Chapel of Our Lady (Echternach)
Chapel of Our Lady, Consoler of the Afflicted (Grentzingen)
Chapel of St. Pirmin (Kaundorf)
The watercolor artist is Norbert Hastert of Dudelange.

Last updated on 27-Jul-99 at 21:43.