---
Notable Buildings
Date of Issue: March 16, 1992

Jean-Pierre Pescatore Foundation. This stamp shows the retirement home of the Pescatore Foundation in Luxembourg. This neo-gothic building with 160 rooms on four floors opened in 1892 and was funded by a testamentary gift of Jean-Pierre Pescatore (1793-1855), a Luxembourger who made his fortune in France in the tobacco trade and banking business. Additional wings were added to the building in 1954, 1974, and 1982.
High Technology Institute (IST). The buildings of the IST in Kirchberg were completed in 1976. The IST provides a general education with advanced courses in science, advanced technology, and engineering.
New Fair and Congress Center. The new Center in Kirchberg opened in 1991 and provides 4,000 square meters of exhibition and congress space as well as many adjoining conference rooms. It is adjacent to eight large exhibition halls (30,000 square meters) which have been used for spring and autumn fairs since 1974.
---
Tourism
Bettembourg and Walferdange
Date of Issue: March 16, 1992

Bettembourg. This stamp shows Collart castle at Bettembourg. It was built around 1730 and was sold in 1971 by Charles-Joseph Collart de Donnea (owner of the Dommeldange ironworks) to the local government. Restoration was completed in 1992.
Walferdange. This stamp shows the train station which was built in 1892. Walferdange is located just north of Luxembourg City and is perhaps best known for its castle built in 1825 and transformed into a royal residence in 1840; it is currently occupied by the Teaching Training Institute.
---
Europa 1992
Discovery of America
Date of Issue: May 18, 1992

The theme of these stamps is "The Discovery of America", to honor the 500th anniversary of the famous voyage of Columbus. They depict two noted Luxembourgers who emigrated to the United States in the 19th century.
Nicholas Gonner emigrated to Cape Girardeau (Missouri) in 1866 where he ran a sawmill and helped plan and construct railways. In 1872 he moved to Dubuque (Iowa) where he was the editor of two newspapers. He is well known for his 1889 book "Luxembourgers in the New World" which was intended to orient and instruct potential, or recent, Luxembourg emigrants to the United States.
Nicolas Becker emigrated to Fredonia (Wisconsin) in 1854. He was a town clerk, justice of the peace, and notary for several years. He eventually became a representative of the State of Wisconsin. He was also an accomplished poet, publishing many works in the "Gazette Luxembourgeoise" for which he worked as a journalist.
---
Lions Club International
75th Anniversary
Date of Issue: May 18, 1992

Lions Clubs International, founded in Chicago in 1917, is the world's largest service organization and has about 40,000 clubs in 165 countries. The clubs are associations of business people who champion worthwhile local community social service projects. The name "Lions" stands for "Liberty, Intelligence, Our Nation's Safety"). There are 15 regional Lions Clubs in Luxembourg (District 113).
---
General Strike of 1942
50th Anniversary
Date of Issue: May 18, 1992

This stamp shows detail from the Strike monument in Wiltz.
On August 30, 1942, the Nazi occupier attempted to impose compulsory military service on Luxembourg men born between 1920 and 1924. This was essentially the final step in the assimilation of Luxembourg into the German Reich and was violently opposed by the Luxembourgers. On August 31 a series of spontaneous strikes erupted, inspired by civil disobedience in Wiltz where leather workers, civil servants, and school teachers refused to work. The Nazis responded with brutal force to snuff out the strikes: 21 strikers were executed and others sent to concentration camps.
---
Barcelona Olympic Games
Date of Issue: May 18, 1992

This stamp shows part of a mural by Luxembourg artist Armand Strainchamps which is on a wall of the Dudelange Sports Center.
---
Seville Universal Exhibition
Date of Issue: May 18, 1992

The Luxembourg pavilion at the Seville Universal Exhibition is shown on this stamp.
---
Mascarons
Date of Issue: October 5, 1992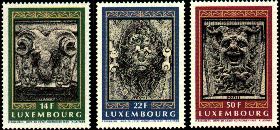 Mascarons are stone faces decorating house fronts, originally by the Greeks to ward off evil spirits, later for purely decorative reasons. They were popular in Luxembourg until the start of the 20th century.
---
Posts and Telecommunications
150th Anniversary
Date of Issue: October 5, 1992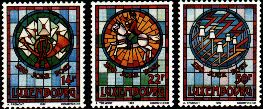 The Luxembourg Postal Administration began operating on January 1, 1842 and replaced the Belgian postal service that stopped operating in Luxembourg when Belgium formally gained independence from The Netherlands in 1839. The Administration first issued postage stamps in 1852 and in 1883 it merged with the Luxembourg Telegraph Administration. Luxembourg joined the International Telegraph Union (now the International Telecommunications Union) in 1866 and was a founding member of the Universal Postal Union in 1874.
---
European Union
Date of Issue: October 5, 1992

These stamps publicize the forming of a single European Union.
---
Endangered Birds I (Charity Issue)
Date of Issue: December 7, 1992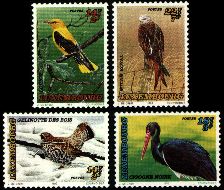 These stamps depict endangered birds in Luxembourg:
hazel grouse
golden oriole
black stork
red kite
Last updated on 27-Jul-99 at 21:43.