---
Grand Duke Jean
Definitives (right profile)
Dates of Issue
| | |
| --- | --- |
| March 7, 1994 | 1F |
| January 30, 1995 | 2F |
| March 8, 1993 | 5F, 7F |
| January 2, 1997 | 8F |
| March 31, 2000 | 9F |
| January 30, 1995 | 10F |
| March 8, 1993 | 14F |
| March 7, 1994 | 15F |
| January 30, 1995 | 16F |
| March 8, 1993 | 18F |
| March 7, 1994 | 20F |
| March 8, 1993 | 22F, 25F |
| March 7, 1994 | 100F |

The portrait of Grand Duke Jean used for this definitive series was drawn by Swiss artist Pierre Schopfer.
---
Tourism
Schwebsingen and Steinfort
Date of Issue: March 8, 1993

Steinfort. This stamp shows the "Al Schmelz" (old ironworks) cultural center which opened in March, 1989. The building is a restoration of the workshop for a blast furnace and stamping mill first built in 1846 and shut down in 1932.
Schwebsingen. This stamp shows the "Fountain of the Children with Grapes" which stands in Albert Ruppert Square. This fountain was unveiled at the first wine festival in 1953. On the first Sunday of September every year it bubbles wine instead of water.
---
Europa 1993
Contemporary Art
Date of Issue: May 10, 1993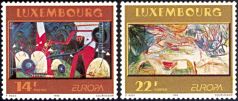 The two paintings shown on these stamps are in the collection of the National History and Art Museum: "Rezlop" by Fernand Roda (14F) and "So Close" by Sonja Roef (22F). Both artists were born in Luxembourg.
---
Historic Residences
Date of Issue: May 10, 1993

These stamps depict historic houses in the center of Luxembourg City.
Burgundy House. Portions of this building date back to the early 15th century. It currently houses the offices of the Prime Minister.
Simons House. The forerunner of this building was built in 1580 and was extended in 1721 in the baroque style. Today it houses the Ministry of Agriculture.
Cassal House. This building was built around 1573 by P. M. de Cassal, the clerk to the Provincial Council.
---
New Surgery Technologies
Date of Issue: May 10, 1993

This stamp honors all the doctors, researchers, and scientists who have been responsible for technological advances in surgical techniques.
---
Museums
Date of Issue: September 20, 1993

These stamps publicize three different museums in the country of Luxembourg:
Tram and Bus Museum in Luxembourg City.
National Mining Museum in Rumelange.
Museum of Ancient Crafts in Wiltz.
---
Jean Schortgen (1880-1918)
75th Anniversary of Death
Date of Issue: September 20, 1993

Jean Schortgen, born in 1880, worked in the mines and was active in the union movement. In 1914 he became the first union worker to be elected to Parliament. He was killed in a mining accident in 1918.
---
Artistic Circle of Luxembourg
Centenary
Date of Issue: September 20, 1993

The Artistic Circle was founded in 1893 as a voice for the artistic community of Luxembourg.
---
Environmental Protection
Date of Issue: September 20, 1993

This stamp depicts the ecological label of the European Community. The label is used on products that are environmentally friendly.
---
Endangered Birds II (Charity Issue)
Date of Issue: December 6, 1993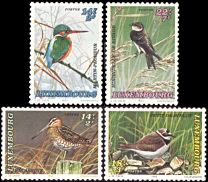 These stamps depict endangered birds in Luxembourg:
kingfisher
snipe
little ringed plover
sand martin
Last updated on 8-Feb-00 at 00:05.