Card-Letters
(1938)
Date of Issue: August 21, 1938
These card-letters were issued on the occasion of the congress of the Alliance Internationale du Tourisme held in Luxembourg on August 21-24, 1938. They were sponsored by the Touring Club Luxembourgeois and commemorate the 40th anniversary of the Alliance.

The card-letters were issued in two sets of six with each card in a set showing a different town view on the address side and another view on the back flap.

The six different pairs of views are as follows:
Beaufort: Les ruines du château / Esch-sur-Sûre en Ardenne
Brandenbourg: Les ruines du château / Bourscheid: Les ruines du château
Colmar-Berg: Château Grand-Ducal / Vallée des 7 Chateaux: Hollenfels
Luxembourg: Les 3 Tours 1050 / Luxembourg: Ville-Haute
Luxembourg: Vue sur la Ville-Haute / Luxembourg: Vallée de la Pétrusse
Luxembourg: Ville-Basse / Luxembourg: Le Pont Adolphe
---
70c Charlotte Portrait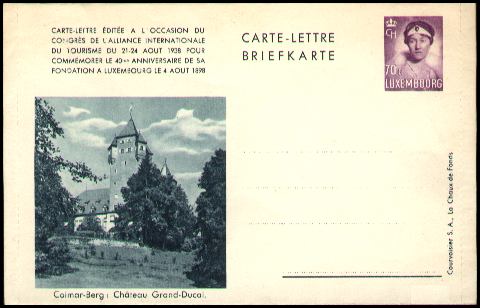 ---
1.25F Charlotte Portrait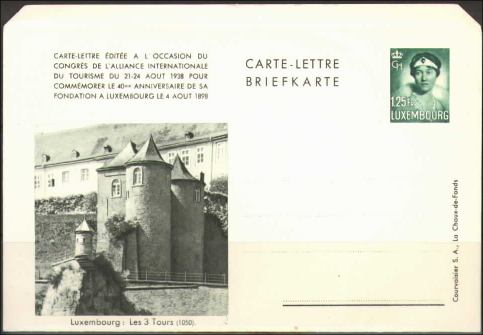 ---
Last updated on May 2, 2001.