---
Portrait Medallions II
Date of Issue: March 3, 1986

These stamps depict ancient medals kept in the Medical Cabinet of the State Museum in Luxembourg:
Count of Monterey
Louis XIV (1638-1715)
Pierre de Weyms (1610-1650)
Duke of Marlborough (1670-1722)
---
Mondorf-les-Bains State Spa
Centenary
Date of Issue: March 3, 1986

The first spa at Mondorf opened in 1847 but the 1870 Franco-German war resulted in great loss of business. The State purchased the spa in 1886, expanded it, and promoted it successfully.
---
Federation of Luxembourg Beekeeping Associations
Centenary
Date of Issue: March 3, 1986

The Beekeeping Federation was formed in 1886 with the goal of promoting beekeeping, protecting home-made produce, and safeguarding the interests of its members. Today there are approximately 900 members who manage 13,500 hives.
---
Luxembourg Table Tennis Federation
50th Anniversary
Date of Issue: March 3, 1986

The Luxembourg Table Tennis Federation was founded in 1936 by six clubs from around the country.
---
Europa 1986
Nature Conservation
Date of Issue: May 5, 1986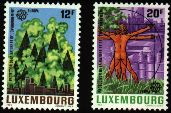 The Europa theme of "protection of nature and the environment" is represented by these two stamps.
---
Luxembourg Fortress
Date of Issue: May 5, 1986

These stamps depict three buildings remaining from the old Luxembourg fortress:
Fort Thungen -- built in 1732 by the Austrians
Invalids' Gate -- built in 1684-85 during fortification works undertaken by Vauban after Luxembourg had been taken by the troops of Louis XIV of France
Malakoff Tower -- built in 1861 by the last Prussian military commander of the fortress
---
Robert Schuman (1886-1963)
Birth Centenary
Date of Issue: June 26, 1986

These stamps honor the centenary of birth of Robert Schuman, the eminent French politician born in Luxembourg in 1886 and gone down in history as the "father of Europe". These stamps were issued in a booklet showing part of the European Center in Luxembourg.
---
Countess Ermesinde (1186-1247)
800th Anniversary of Birth
Date of Issue: September 15, 1986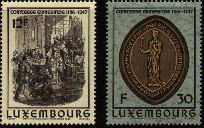 Ermesinde was the daughter of Henri IV (the blind) and was born in 1186. She took over government duties in 1225 and proved to be an effective leader as she improved the political and social condition of her subjects. She granted charters or letters of freedom to several towns including Echternach (1236) and Luxembourg (1244). She died in 1247 after skillfully expanding the county of Luxembourg to three times its original size.
---
European Road Safety Year
Date of Issue: September 15, 1986

This stamp publicize European Road Safety Year and its focus on five road safety programs to address speeding, drinking and driving, use of seat belts, motorcycle safety, and the safety of children.
---
Tourism
Esch-sur-Alzette and Grevenmacher
Date of Issue: September 15, 1986

Esch-sur-Alzette was first settled in Celtic times and the first document mentioning it dates from 773. Today it is a center of the iron and steel industry. The stamp shows a relief from the facade of the Town Hall.
Grevenmacher is located on the Moselle River and is a business center of the wine industry. Since the canalization of the Moselle in 1965, it has had access to Belgian and Dutch seaports, thus enhancing its stature as a commercial center.
---
Book of Hours I (Caritas Issue)
Date of Issue: December 8, 1986

These stamps show paintings from the Book of Hours (a prayer book) in the collection of the Luxembourg National Library. This book was prepared in the mid-15th century in eastern France. The topics shown on these stamps are as follows:
annunciation
apparition to the shepherds
nativity
adoration of the Magi
flight into Egypt
Last updated on 27-Jul-99 at 21:43.