---
Grand Duchess Charlotte
Centenary of Birth
Date of Issue: March 4, 1996

Grand Duchess Charlotte of Luxemboug was born at Berg Castle on January 23, 1896, the second daughter of Grand Duke Guillaume and Grand Duchess Marie-Anne.
Charlotte became Grand Duchess on January 15, 1919 upon the abdication of her sister Grand Duchess Marie-Adélaïde. On November 6, 1919, she married Prince Félix of Bourbon-Parma (born on September 28, 1893; died on April 8, 1970). They had six children: the present Grand Duke Jean (1921), Elisabeth (1922), Marie-Adélaïde (1924), Marie-Gabrielle (1925), Charles (1927), and Alix (1929).
Grand Duchess Charlotte died on July 9, 1985. Immediately after her death, the government decided to have a monument erected in her memory. The monument, depicted on this stamp, was financed by national subscription and was unveiled on April 29, 1990 at the Place Clairefontaine in Luxembourg.
This stamp was sold only in commemorative booklets of eight stamps. Each booklet sold for 120F (8F below face value). On the cover of the booklet is a drawing of the Grand Ducal Palace in Luxembourg City.
---
Luxembourg National Railway Company (CFL)
50th Anniversary
Date of Issue: March 4, 1996

The Luxembourg National Railway Company (CFL -- Chemins de Fer Luxembourgeois), founded on April 17, 1946, was formed by the merger of the two pre-World War II railway companies, Prince Henri and Guillaume Luxembourg. It is a company governed by Luxembourg legislation and provides both rail and road transport services. During its existence, it has made a substantial contribution to the industrial, economic, and social development of the Grand Duchy.
Related issues: On September 19, 1959, Luxembourg issued a 2.50F stamp to commemorate the centenary of the Luxembourg railway system. On September 29, 1956, it issued a 2F stamp to publicize the recent electrification of the railroad system.
---
Emile Mayrisch
Date of Issue: March 4, 1996

Emile Mayrisch was born in Eich on November 10, 1862. He studied engineering and, after working at the steel mills in Rodange and Dudelange, he was appointed manager of the latter in 1897. Mayrisch was one of the driving forces behind the creation of ARBED in 1911 and became its first technical manager. His reputation was international. In 1922, he was elected to the Belgian-Luxembourg Economic Council. In 1926, he set up the first International Steel Agreement whose members were the national iron producers of France, Germany, Belgium, Saar, and Luxembourg. In 1927, Austria, Hungary, and Czechoslovakia joined this organization chaired by Mayrisch.
Mayrisch was married to Aline de Saint-Hubert, a passionate lover of the arts and literature. She was an admirer of Rilke and a friend of Gide and turned the château of Colpach into a literary salon and a meeting place for artists, writers, philosophers, and politicians from all over Europe.
Mayrisch died in a car accident in 1928. (A 6F stamp was issued on May 18, 1978 to commemorate the 50th anniversary of his death.) In a will of October 28, 1946, Mrs. Mayrisch left the chateau of Colpach to the Luxembourg Red Cross which opened a convalescence home there in 1948. The chateau is pictured on a 2.50F stamp issued on May 8, 1963 to honor the centenary of the Red Cross.
The portrait of Emile Mayrisch on this stamp is by Théo Van Rysselberghe, a Belgian painter and close friend of Mayrisch who was born in Ghent in 1862 and died in 1926.
The face value of this stamp is specified by the letter "A" and represents the postage for a letter to a European destination in the 0-20 gm weight class (16F on the date of issue). It was the first stamp of permanent validity ever issued by Luxembourg.
This was a joint issue with Belgium.
[Van Rysselberghe commemorative card]
---
Europa - Famous Women
Date of Issue: May 20, 1996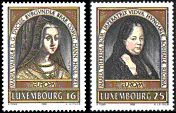 These stamps depict two influential female leaders of Luxembourg in support of the general theme "Famous Women".
Marie of Burgundy (1457-1482) was the daughter of Charles the Bold, Duke of Burgundy (and of Luxembourg); she became Duchess of Luxembourg upon her father's death in Nancy on January 5, 1477. Later in 1477, she married archduke Maximilian of Austria (the Holy Roman Emperor from 1493-1519), an act which effectively prevented Luxembourg from being annexed by French kings who had claimed ownership of the Duchy since the extinction in 1437 of the male line of the imperial branch of the House of Luxembourg.
As Duchess of Luxembourg, Marie of Burgundy strengthened considerably the fortress of Luxembourg and equipped the ramparts with cannons. This was sufficient to withstand the assault in 1479 of the Duke of Amboise, the head of a French army. After this failure, serious opposition to the Burgundian rule of Luxembourg ceased.
Marie's benevolent acts were instrumental in securing the loyalty of Luxembourg to Burgundy. She restored the granted privileges of many towns, monasteries, and corporations; restored the confiscated seal; and restored the city hall of Luxembourg City.
Maria Theresa of Austria (1717-1780) was the daughter of Emperor Charles VI and became Duchess of Luxembourg in 1740 upon his death. Charles VI died without a male heir, but he had taken the precaution of making sure that all his lands would pass to his eldest daughter Maria Theresa by promulgating a new law of succession, the "Pragmatic Sanction".
A large number of different areas were reorganized in Luxembourg during the reign of Maria Theresa, notably the judicial system, finance, public schooling, agriculture, commerce, the land registry ("cadastre"), etc.
Maria Theresa is also pictured on a 6F stamp issued on March 5, 1981, part of a set commemorating historical coinage of Luxembourg.
---
Luxembourg Confederation of Christian Trade Unions (LCGB)
75th Anniversary
Date of Issue: May 20, 1996

The L.C.G.B. (Lëtzebuerger Chrëschtleche Gewerkschafts-Bond) was founded on January 23, 1921. For 75 years, the L.C.G.B. has defended the interests of workers. On a European level, it is affiliated with the European Union Confederation, and on a world level to World Work Confederation. It has about 28,000 members throughout the Grand Duchy.
---
Radio Communications
Centenary
Date of Issue: May 20, 1996

Gugliemo Marconi, an Italian physicist, was born in 1874 in Bologna where he made his first short-distance transmission experiments. In 1896 he went to London where he took out his first patent on the transmission of oscillations and electric signals. Marconi had the brilliant idea of using Hertzian waves for the transmission of signals, and to combine known inventions like Hertz's discharger, Popov's aerial, and Branly's oscillation detector.
In 1899, Marconi managed to make his first international transmission between England and France; in 1901, he organized a transatlantic transmission between England and Newfoundland. Wireless telegraphy was born. Together with the telephone invented by Bell, it was radio which conquered the world as the universal method of communication.
Marconi received the Nobel prize for physics in 1909; he died in Rome in 1937.
---
Olympic Games
Centenary of Modern Games
Date of Issue: May 20, 1996

The modern Olympic Games were started in Athens in 1896 by Baron Pierre de Coubertin (1863-1937) who chaired the International Olympic Committee for nearly 30 years. With the exception of the two world war periods, the Games have now taken place every four years for a century. The centenary Games were held in Atlanta, Georgia in the United States from July 19 to August 4, 1996.
---
Cinema
Centenary
Date of Issue: May 20, 1996

To celebrate the centenary of the cinema, the Council of Europe has decided to coordinate the events aimed at defending the cinematographic and audiovisual assets on a European level. Luxembourg is celebrating this centenary from May 1995 to May 1996.
The first cinema performance was organized by the Lumière brothers in the basement of the Grand-Café, boulevard des Capucines, Paris, on December 28, 1895.
---
Mihály Munkácsy (1844-1900)
Art Exhibition
Date of Issue: May 20, 1996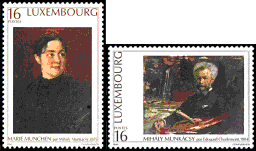 These stamps include "Marie Munchen" by Mihály Munkácsy and a portrait of Mihály Munkácsy by Edouard Charlemont (1884).
Mihály Munkácsy was born in Munkacs (now Mukacevo) in Hungary in 1844. He studied art in Budapest, Vienna, Munich, and Düsseldorf. He took up residence in Paris in 1872, and in 1874, he married Cécile de Marches, a Luxembourg national. The couple had a close relationship with ironmaster Emile Mayrisch and his wife Aline. The Munkácsy family spent a lot of time at the château of Colpach, the Mayrisch residence.
Munkácsy's works are kept at the National History and Art Museum and the City of Luxembourg Museum in Luxembourg, at the Museum and the National Gallery in Budapest, as well as in numerous private collections.
Munkácsy died at Endenich, near Bonn, in 1900.
---
Let's Live Together
Date of Issue: September 23, 1996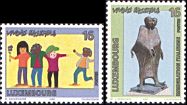 These two stamps promote awareness of the need for cooperation between the various ethnic communities within Luxembourg.
The first stamp, the winner of a nationwide design contest for students, is the work of Michèle Dockendorf. The second stamp shows L'Abbraccio, a bronze statue by Luxembourg artist Marie-Josée Kerschen which was completed in 1992 on the occasion of the centenary of the arrival of the first Italian immigrants.
---
Endangered Animals
Date of Issue: September 23, 1996

These stamps highlight the need to protect three endangered species in the mustelidae family -- the badger, the polecat, and the otter. The otter is now nearly extinct in Luxembourg and the polecat's numbers are rapidly decreasing because of lack of rabbit prey. The badger's population is now slowly increasing because they have been protected since 1984.
---
Registration and Property Administration
Bicentenary
Date of Issue: September 23, 1996

The Registration and Property Administration was founded in 1795 and was charged with the collection of property transaction taxes and the administration of government property. Since 1970 it has been responsible for the collection of value-added taxes (VATs).
---
Indigenous Trees II (Charity Issue)
Date of Issue: December 9, 1996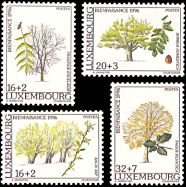 Four trees native to Luxembourg are pictured on the stamps of this semipostal set for the benefit of charity:
ash (Fraxinus excelsior)
willow (Salix ssp.)
rowan (Sorbus domestica)
beech (Fagus silvatica)
The four trees are each shown in a different season. They were drawn by Alan Johnston, a well-known artist specializing in the drawing of flora and fauna.
---
Christmas 1996
Date of Issue: December 9, 1996

This stamp shows an icon, a religious painting on wood, created by the Swedish-born artist Eva Mathes-Bengtsson.
---
Jean the Blind (1296-1346)
700th Anniversary of Birth
Date of Issue: December 9, 1996

Jean the Blind, perhaps the most famous of the medieval counts of Luxembourg, was born in Luxembourg in 1296. He succeeded his father Henri VII as Count of Luxembourg in 1310 and became King of Bohemia in 1311. He was renowned as an aggressive warrior and died a hero in the battle at Crécy in 1346 while helping defend the French from attacks by the British. Since 1946 his mortal remains have rested in the Luxembourg cathedral.
Last updated on 27-Jul-99 at 21:43.