---
Freshwater Fish in Luxembourg
Date of Issue: March 23, 1998

These stamps draw attention to the need to protect the fish population of Luxembourg which is threatened by pollution, the building of dams, and reduction of sources of nutrition. They depict the brown trout, miller's thumb, and small river bleak.
---
Tourism
Hesperange and Rodange
Date of Issue: March 23, 1998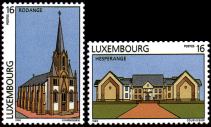 Hesperange. This stamp shows the local authority building, the former "Urbain Castle". Hesperange is located just south of Luxembourg City.
Rodange. This stamp shows the parish church of Rodange built in 1869. Rodange is a small town located near the French border in the southwest corner of Luxembourg.
---
Independent Luxembourg Trade Union
50th Anniversary
Date of Issue: March 23, 1998

The NGL (Independent Luxembourg Trade Union) was founded in 1947 under the name Handwierker-Amicale (Craftsmen's Fellowship); its membership was made up of craftsmen looking to improve their social position. The group was transformed into a union in 1960. The union was given its present name in 1984 when it was opened up to non-craftsmen membership.
---
Wiltz Broom Festival
50th Anniversary
Date of Issue: March 23, 1998

The broom is a common plant in the Oesling region that comes into bright yellow bloom in the springtime. The Wiltz Broom Festival, which takes place every year on Pentecost Sunday, was first held in 1948 and attracts thousands of visitors to the Wiltz area. The highlight of the day is a colorful parade along the main street of the upper town.
---
Jean Antoine Zinnen
Centenary of Death
Date of Issue: March 23, 1998
Zinnen was a composer and musician who wrote the music for the national hymn Ons Hémecht. He was musical director of the Luxembourg Academy of Music until it closed in 1881 and was head of the orchestra at the municipal theater. Zinnen was born in Neuerburg on April 25, 1827 and died in Neuilly-sur-Seine on May 16, 1898. The stamp shows a bust of Zinnen atop his musically-themed mausoleum in the Notre Dame Cemetery.
Note that Zinnen was also honored by a set of Luxembourg stamps issued in 1950.
---
Abolition of Censorship
150th Anniversary
Date of Issue: March 23, 1998
On March 15, 1848, censorship was abolished in Luxembourg by order of the Grand Duke, thus allowing for more candid political criticism in the press. The order led to the creation of many publications, including Luxemburger Wort für Wahrheit und Recht (Luxembourg Voice for Truth and Law), today Luxembourg's most popular newspaper.
---
JUVALUX '98 World Philatelic Exhibition
Date of Issue: June 18, 1998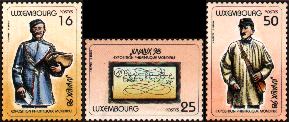 These three stamps were issued to promote the JUVALUX exhibition held in Luxembourg on June 18-21, 1998. The subjects on these stamps are as follows:
town postman from about 1880
pre-philatelic letter sent from Luxembourg on August 20, 1590
country postman from about 1880
---
JUVALUX '98 World Philatelic Exhibition
Souvenir Sheet
Date of Issue: June 18, 1998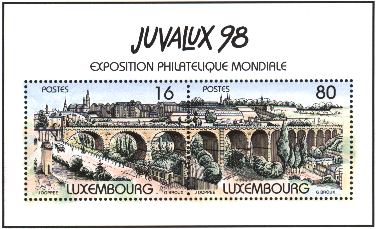 This souvenir sheet is made up of two se-tenant stamps that depict a panoramic view of Luxembourg City and the railroad viaduct that was built in the 1840s. The design is from an 1861 engraving.
---
Europa 1998
National Day and National Remembrance Day
Date of Issue: June 18, 1998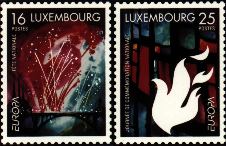 These stamps were issued in support of the Europa theme of "national days and festivals". The 16F stamp depicts the June 23 National Day fireworks show above the Adolphe Bridge. The 25F stamp honors National Remembrance Day in October with a design whose primary elements are taken from the Luxembourg National Solidarity Monument.
---
Luxembourg Fair
700th Anniversary of Granting of Right
Date of Issue: June 18, 1998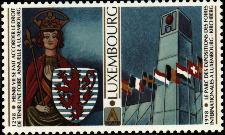 In 1298, Henri VII, Count of Luxembourg and later Holy Roman Emperor, granted Luxembourg the honored right to hold a fair. In modern times, the major business fairs of Luxembourg are managed by the Société des Foires Internationales de Luxembourg (FIL). FIL has a modern exhibition and conference center on the Kirchberg Plateau with a floor space of over 37,000 square meters.
This stamp features a drawing of Henri VII as well as a photograph of the front entrance of FIL's new Exhibition and Conference Center.
The face value of this stamp is specified by the letter "A" and represents the postage for a letter to a European destination in the 0-20 gm weight class (16F on the date of issue).
---
History of the City of Luxembourg Museum
Date of Issue: September 21, 1998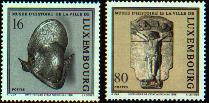 The History of the City of Luxembourg Museum opened in June, 1996 and is now one of the most popular tourist attractions in Luxembourg City. It houses thousands of objects and documents that chronicle the more than 1,000 years of history of the City.
These stamps show two rare items from the museum -- a high-crested Spanish helmet from the late 16th century and a wayside cross from Hollerich (1718).
---
Abbey of Echternach
1300th Anniversary
Date of Issue: September 21, 1998

The Abbey of Echternach was founded by the Anglo-Saxon monk St. Willibrord in 698. It became world famous in the 8th century for its scriptorium where the masterpieces Codex Aureus Epternacensis and Codex Aureus Escorialensis were created.
---
Grand Lodge of Luxembourg
150th Anniversary of St. Jean of Hope Lodge
Date of Issue: September 21, 1998

In 1848, the St. Jean of Hope Masonic lodge was formed in Echternach. It was later moved to Diekirch but was closed in 1872. The Grand Lodge of Luxembourg reactivated this lodge in 1848 in Luxembourg City as the Worshipful Lodge of St. Jean of Hope.
---
Drawings by Abbot Jean Bertels I (Charity Issue)
Date of Issue: December 7, 1998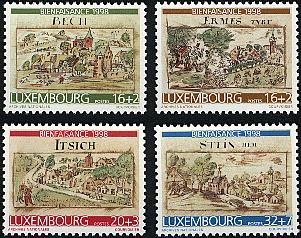 These stamps, which comprise the first set in a charity series that will continue in 1999 and 2000, depict 16th century drawings of small Luxembourg towns by Abbot Jean Bertels (1544-1607). They are from a collection of 88 related drawings known as the "Grand Bertels" that are kept in the National Archives of Luxembourg.
Bertels was born in Louvain, but came to Luxembourg at the age of 16 to be a monk at Münster Abbey. He was later to become the Abbot. In 1595 he was named Abbot of the prestigious Echternach Abbey by King Philip II and he served in that capacity until his death in 1607.
Bertels took a great interest in the culture and history of his adopted country. He expressed this interest not only through art, but also literature. He is recognized as the "first historian" of Luxembourg for his 1595 book, Historia Luxemburgensis.
This set of four stamps show 16th century scenes from the following towns:
Bech
Ermesturf (now called Ermsdorf)
Itsich (now called Itzig)
Steinhem (now called Steinheim)
For more information on Bertels and his drawings, refer to Bertels Abbas Delineavit 1544-1607 (1984, RTL-Edition, Luxembourg). This book, which contains photographs of all of Bertels' drawings, was written by Paul Spang, former Director of the Luxembourg National Archives.

Note that Jean Bertels himself was featured on a 1985 Luxembourg stamp.
---
Christmas 1998
Date of Issue: December 7, 1998

This stamp depicts an icon, the work of Fr. Georges Saget (1915-1993), which is displayed at the Abbey of St. Mauritius in Clervaux.
---
NATO Maintenance and Supply Agency
40th Anniversary
Date of Issue: December 7, 1998

The NATO maintenance and supply agency was created by decision of the North Atlantic Council in 1958. As the main NATO logistical support management agency, the principal mission of NAMSA is to supply, in peacetime as well as in war, logistical support services for the weapons systems and the equipment common to NATO countries in order to improve the readiness of the equipment, develop logistical efficiency and effect substantial savings by the grouping of purchases.
To achieve this mission, NAMSA uses the powers and responsibilities it has been given in the areas of supply, maintenance, standardization, purchasing, transport, technical support, engineering services and management of specifications for about thirty weapons and equipment systems.
NAMSA's main facilities and the majority of its workforce of around 1,000 are located at Capellen in the Grand Duchy of Luxembourg.
Last updated on 14-Aug-99 at 12:13.